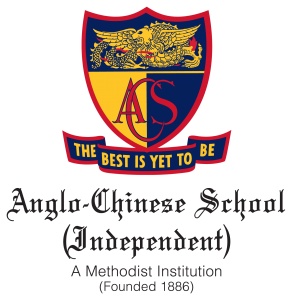 The upper part of the crest* shows a creature with a lion head, eagle wings and a dragon body with claws, symbolising the fact that the school was founded when Singapore was a British colony, by the American Methodist Mission, and during the Manchu dynasty in China.
The lower part the crest comprises two panels in blue and gold; these which represent heaven and earth, and also symbolise spiritual and material accomplishment. The letters "ACS" in red symbolise life bridging heaven and earth, as well as the blood of Christ uniting heaven and earth.
It is shaped as a shield to uphold knightly virtues such as chivalry, honour, loyalty, valour and manliness.
The ACS crest was designed by Dr Yap Pheng Geck after he was inspired by the lyrics of the A.C.S. Anthem. The A.C.S. Anthem was composed by Hoisington in 1926 to commemorate Bishop Oldham re-visit to ACS. The crest appeared for the first time on the School Magazine in 1927.
The school motto, The Best Is Yet To Be, which was later introduced by the late Mr T W Hinch (Principal, 1929 – 1947), was incorporated into the crest in 1959. The motto was taken from Robert Browning's poem "Rabbi Ben Ezra".
*Trade Mark Notification, Use of ACS Marks and ACS Brand Guideline